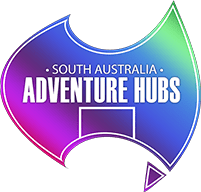 Adventure Hubs SA
General FAQs
When do you operate?
Our experiences generally operate on weekends and selected weekdays. For current experience times please check adventurehubssa.com.au.
What experiences are currently operating?
We are currently running three experiences, two at the Mount Lofty Adventure Hub and one at Southern Adventure Hub, as well as private group experiences. Please check adventurehubssa.com.au for current booking availability.
What exactly do I get for my booking?
The service we deliver is a taster of the different activities that are mentioned in your experience description. At minimum, it is one go on each activity.
The time slots we have allocated to the activities are to allow for our maximum group size to complete the activities in the allocated time slot. Sometimes we may have less numbers and it is up to the discretion of the leader to allow more than one attempt.
The leaders must be ready to greet the new clients well before the next session begins.
What are the minimum and maximum numbers per experience?
Minimum of 2 and a maximum of 12 people max, dependant on experience. You can book for one person only.
What are the requirements for your experiences?
Minimum weight: 25kgs – Maximum weight: 120kg.
Minimum height: 120cm
Children 17 years and younger must be accompanied on the experience by an adult.
Who supervises my child when participating?
Children under 18 must be accompanied by an adult.
We will conduct the activity for your child, however you must take ultimate responsibility.
We will remove your child from the activity if they are deemed to be non-compliant and or a safety risk.
I don't want to do the entire experience on offer. Can I book a shorter session time?
The pricing is based on a taster of each activity, if you don't want to try one of them, it is the same price.
The timing for our experience is based on what it will take the maximum group size to go through the experience
Can I just get there and start the activity?
As we operate set session times with instructors, you will need to wait for the session you have booked to start. Each session we go through a safety briefing and explain how the activities will be happening during the session. We also need to have the right staff to participant ratios for the different activities while people are participating.
When is your office open?
Our office is in the city and we are open 9am – 5pm on Monday – Friday. Our office is not open during the weekend, but you can call our office number to be transferred to our emergency contact.
Our phone number is 08 8472 0933.
As all the information about our experiences is online and bookings are all made online, we only accept emergency calls for legitimate issues.
Booking Information 
All bookings are made with Venture Corporate Recharge (ABN 51 099 001 813) trading as Adventure Hubs SA. By booking a experience or service from Adventure Hubs SA, you (or any other person booked by you) achknowledge you have read and consent to the Adventure Hubs SA Terms and Conditions and Privacy Policy and your booking will be accepted by Adventure Hubs SA on this basis. The experience or services to be provided are those referred to in our booking confirmation to you. The Terms and Conditions and your booking confirmation constitute the entire agreement between you and Adventure Hubs SA.
How do I book in?
You can book your ticket online at: com.au. Adventure Hubs SA uses a third-party secure booking platform known as Rezdy. All bookings go directly to Adventure Hubs SA.
Session times show what is available. If availability appears in the drop down for the day you want, then go for it.  If not, please select another date.
Can I pay after or when the session finishes?
All bookings must be paid for in advance.
Can I pay with cash?
All experience/hire bookings are made online and are paid for with credit/debit cards.
Please contact us to arrange alternative payment options.
Can I purchase a gift card?
You sure can! All experience and hire gift cards can be purchased online from our website on adventurehubssa.com.au/gift/.
Can I purchase a physical copy of my gift card?
You sure can! Call us on 08 8472 0933 to organise a physical copy of your gift card. Delivery costs may apply.
I booked the experience through an online agent and their terms seem different?
Please contact the online agent that you booked through if you have any questions about the terms and conditions relating to your booking.
What else should I know about my booking?
You will be emailed a waiver to sign two days prior to your booking. You will need to arrive 15 minutes before your booking.  If you arrive late, you will miss your session.
We are very strict regarding safe participation. If you are deemed to be acting in an unsafe manner or non-compliant you will be removed from the activity and lose your booking.
Confirmation of your booking
Only processed bookings can be accepted. This means you book online and then receive the full details via email immediately following the payment of your booking. If you do not receive this, please check your junk mail. If you still have not received an email, please contact our office straight away.
Once you receive your email, please review the details of your booking, taking note of the starting time and location map.
Please check the terms and conditions included to ensure you have no surprises. We will contact you via email up to the day prior to your experience if any changes affect your booking.
Please contact us if you will not be checking your email or have any concerns about these details.
Mount Lofty Adventure Hub 
Where are you located
We are located on the grounds of the Woodhouse Activity Centre at 37 Spring Gully Road, Piccadilly, SA, 5151. There is parking available at the Mount Lofty Adventure Hub itself.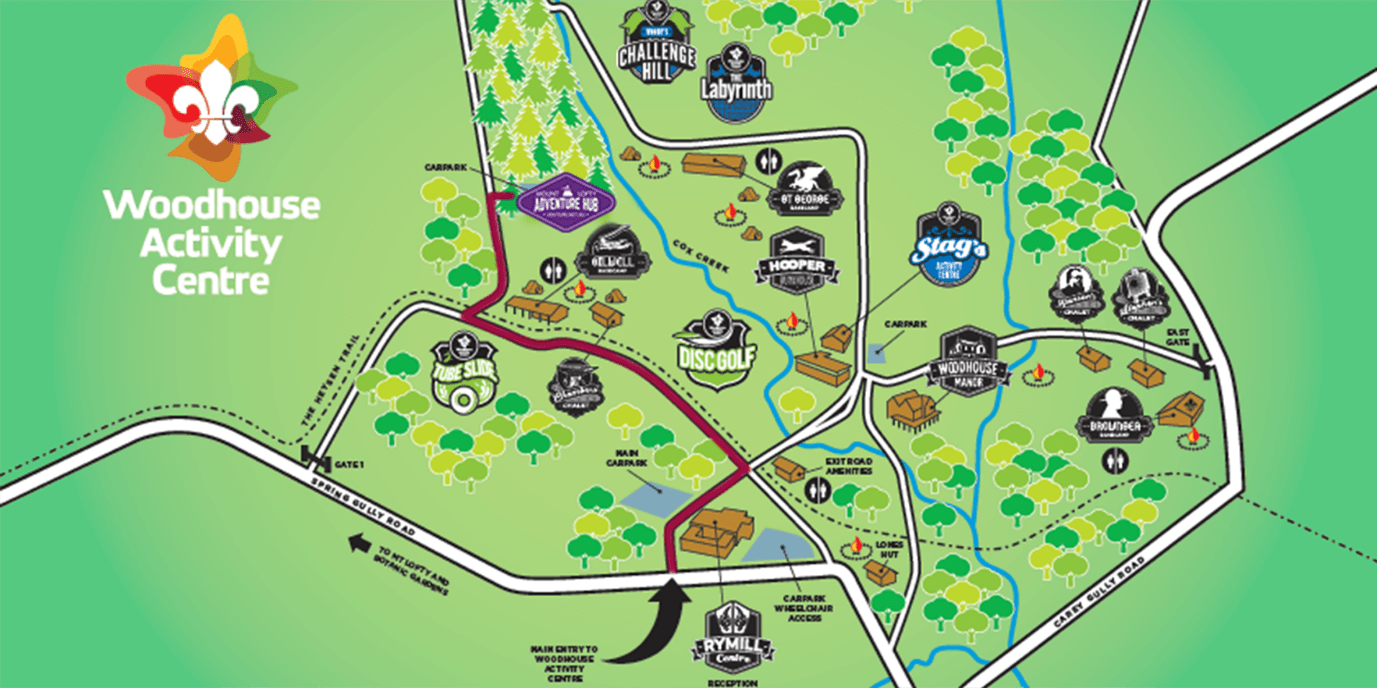 I'm on my way to Mount Lofty Adventure Hub and I am at the boom gate at the entrance to Woodhouse, what do I do now?
If you are only entering the property for our experience you do not need to pay day entry.
You are still required to check in at reception though for fire management.
If you are wanting to spend the day at Woodhouse you can purchase a day entry upon arrival at reception and they will provide you with a wrist band to indicate this.
If I book the Mount Lofty Adventure Hub experiences, can I stay and use the Woodhouse facilities?
You can if you purchase day entry and receive a wristband from the Woodhouse reception office at the front gate.
Can a person join the session if they have not pre-booked?
Of course! As long as we have a space available. Quickly get online and book in before the session closes.
What experience level is required?
Our experiences are designed for a beginner level experience (but you don't have to be a beginner to still have fun) and are suitable for all levels of experience and fitness.
Is there a toilet at the experience location?
Yes! There are toilets at the Mount Lofty Adventure Hub.
Is there coffee or food available?
Not yet and we are working on it! You can get very tasty tap water though.
Southern Adventure Hub 
Where are you located
The Southern Adventure Hub is located within the Girl Guides SA Douglas Scrub Campsite at 216 Douglas Gully Road, Blewitt Springs, SA, 5171. It is about 45 minutes from Adelaide. When you are travelling along Douglas Gully Road, the entry gate is just opposite Woodstock Wine Estate. The guide will meet you there and direct you to the parking area and the activity location.
I'm at the gate at Southern Adventure Hub but it is locked, how can I get in?
Please wait there for the guide, they will be with you very soon. Alternatively, please call our office and we can assist. Phone 08 8472 0933
Can a person join the session if they have not pre-booked?
Unfortunately, all tickets must be purchased before the day of the experience. If you have a last minute add in up to 48 hours before your experience and the booking is closed, please call us on 08 8472 0933 to see whether there is still room.
What experience level is required?
Our experiences and experiences are designed for a beginner level experience (but you don't have to be a beginner to still have fun) and are suitable for all levels of experience and fitness.
Is there a toilet at the experience location?
Yes! There are toilets at the Southern Adventure Hub.
Weather 
What weather do you operate in?
We operate in most weather conditions, including rain.  We have been doing this a long time and understand safe operating conditions.  If we are concerned, we will stop, pause, delay or shorten the session for a break in weather.
If we assess the weather to be unsafe, Adventure Hubs SA may have to cancel or postpone/delay the session.  We will attempt to do this prior to the day.  On the actual day of service, weather conditions may still require our immediate intervention.
Extreme weather conditions where Adventure Hubs SA may have to cancel, or postpone/delay include:
Fire Danger Ratings where it is extreme or catastrophic in the experience locations or if there are any fires near the experience locations that would make it unsafe
Severe thunderstorms & lightning
Extreme temperature (hot or cold)
Severe wind
Flooding
If we have to change the session, we will offer the next time slot or provide the opportunity for rescheduling.
Cancellation Policy 
What is your cancellation / change of date policy?
Full refund: Full refunds and/or cancellations will be given only if they are made at least 72 hours before your scheduled booking. No refund will be given for any cancellations after the 72-hour mark. For the full cancellation policy please check the terms and conditions on your booking form.
Change of Date: Changes to bookings can be made up to 48 hours before your scheduled experience is to run. To change your booking please call Adventure Hubs SA on 08 8472 0933 or email info@adventurehubssa.com.au
48 hours or less till your booking: No changes or refunds will be made at this time.
What happens if I need to cancel on the day?
Adventure Hubs SA operates a no-refund policy for all cancellations within 72 hours, non-attendances, late attendance, and failure to participate.
Management reserves the right to make exceptions if it chooses.
If in the instance, Adventure Hubs SA needs to reschedule due to safety (extreme weather conditions etc.) we will offer to reschedule your session to another available timeslot or, as a last resort if this is not possible, we can provide a refund.
Addendum to Cancellation Terms regarding COVID-19
Adventure Hubs SA complies with all experience operation regulations of the South Australian Health Department and have implemented COVID-19 health, safety and cleaning protocols as applicable for each experience. In addition, for any reason Adventure Hubs SA or a customer need to cancel a experience due to late notice COVID-19 implications all bookings will be rescheduled or provided with a FULL refund of the experience price. See our COVID-19 information page for further details.
What if I get there and am too scared to participate or need to stop part way through?
That's okay, it happens sometimes and good on you for coming along and giving it a go! However, if you are not able to start or complete the experience because of fear or you change your mind, please note tickets are non-refundable.
What happens if I arrive late?
We have a very tight schedule. If you arrive late, you will likely miss out and lose your booking.
We ask people to be there 15 minutes before hand to prevent this. Please note that if that happens tickets are non-refundable.
What happens if you, Adventure Hubs SA, cancels a experience or service
Adventure Hubs SA reserves the right to cancel a experience or service at any time prior to departure should operational considerations outside of its control dictate (i.e. mechanical breakdown, staff sickness).
If this occurs, you can transfer to an alternate date or alternatively receive a full refund of your booking price.
What happens if I'm sick on the day?
Unfortunately, tickets are non-refundable on the day of your experience.*
*In compliance with the current COVID-19 pandemic, participants who are sick on the day of experience can contact our office to reschedule their experience.
Safety 
Are you safe?
We definitely are!
We only use staff trained in the correct qualifications for the activity.
We carry out daily inspections of the equipment being used.
We conduct more intensive quarterly inspections and maintenance.
Do people get injured?
We ask you to take care while participating in our physical activities. Walking around on uneven surfaces with multiple tripping hazards is normal in nature. You need to take care.
Our activities involve physical activity and equipment. Therefore, there's a chance for knocks, cuts, abrasions or bruises that come with physical activity in nature.
In addition, climbing ladders, sitting in harnesses and other safety equipment can be uncomfortable and pinch sometimes.
Can I participate if I have had a few alcoholic drinks?
The short answer is no. Safety first!
We reserve the right to refuse access to the experience should you be deemed to be under the influence of drugs or alcohol, show aggressive, dangerous or threatening behaviour.
It is your responsibility to participate safely and not be intoxicated, and you must sign a waiver that you have not had a drink.
What about Medical conditions?
We would like participants to be free of any medical conditions, that could be worsened by physical activity. It is your responsibility not to book into a session if you have any of these conditions.
We recommend that you consult a health professional if you have the following, before booking**:

Pregnancy
Dislocations
Heart Conditions
Diabetes
Recent Sprains or Muscular Injuries
Epilepsy, especially PSE.
Back Pain or Chronic Back Pain
Prosthetics- includes Cosmetic Implants
Panic/Anxiety Attacks
Neurological Disorders
High or Low Blood Pressure
Disabled or physical impairment
Bone Disorders
Fragile Skin
** Please note this does not necessarily exclude a person from doing our activities. However, Adventure Hubs SA reserves the right to deny you access to the activities if you aggravate any of the above conditions and if we, acting reasonably, are not completely satisfied that it is safe for you to participate.
Do I have to follow the COVID check in rules?
You certainly do.
This includes complying with the normal rules of non-participation if you are sick, been in a COVID hotspot or have been overseas in the last 14 days, etc.
Do I need to be COVID-19 vaccinated to do the experiences?
You certainly do.
From December 1st 2021 we are requiring all participants to provide either a) a Australian-issued International COVID-19 Vaccination Certificate (ICVC) or b) if you are an international traveller your COVID-19 passport.
How do you take care of hygiene with equipment?
Where it is safe we also disinfect all our equipment
You're more than welcome to bring your own hair net or wear your own soft hat (non-baseball or trucker hat) underneath your helmet for extra protection!
Can I take my own equipment?
No, sorry we have rules about testing and use of equipment and therefore must only use our equipment.
What about environmental impacts and sustainable practices?
We firmly believe in leaving no trace when we're out and about in our beautiful state.
To borrow a phrase – we take only photographs and leave only footprints.
We take all our rubbish with us (and pick up rubbish if we find it) and we leave wildlife alone, we don't feed them or try to pat them.
What sort of qualifications do your guides and instructors have?
At Adventure Hubs SA, our staff have a large number of skills and qualifications required to safely provide our activities to you. We believe it is extremely important for our staff to stay current with their qualifications whilst continuing to increase their knowledge and understanding.
For information on the qualifications that our staff hold, several of the qualifications are listed below:

Paddle Australia
Bushwalking Leadership South Australia
Professional Association Climbing Instructors
Survive First Aid
Australian Sailing
PADI
On The Day Requirements 
What do I need to bring?
Sports shoes that are sturdy
A hat but it may not be suitable to wear under the equipment
Sunscreen
Water bottle
Snacks
Sunglasses
Camera if you want to take photos
You cannot carry most items at height, so bring a back pack and be prepared to leave it on ground while you are participating or in your car
What should I wear?
For all our experiences don't wear anything you'd be worried about getting dirty!
Closed toed shoes are a must.
Think sun-smart clothing – long pants are a good idea and best suited to most activities.
You will be moving, so active, outdoor style clothing is best
What happens if I lose my phone, tear my clothes, etc?
You are responsible for your personal items. Adventure Hubs SA does not take responsibility for the accidental loss or damage of your personal items.
Can I take photos?
You sure can!
Adventure Hubs SA is not liable for any damage that may be incurred should it fall off or be damaged while you are undertaking an activity.
If you're kayaking we recommend that you take a dry bag or take a camera with water-proof housing, just in case of water splashes or in case you drop it overboard accidentally.
If you share them on social media, please tag us @adventurehubssa, @mtloftyadventurehubs, @southernadventurehubs, we love seeing your pics!
While we're talking about photos, sometimes Adventure Hubs SA will capture photos and videos during a experience to use for advertising or promotional purposes. Consent is gained when you sign the online waiver. If you take a photo, please check if other participants are ok with it.
Can I wear a GoPro?
Absolutely, as long as it is securely attached and doesn't impact on your safety or the safety of your equipment.
Adventure Hubs SA is not liable for any damage that may be incurred should it fall off or be damaged while you are undertaking an activity.